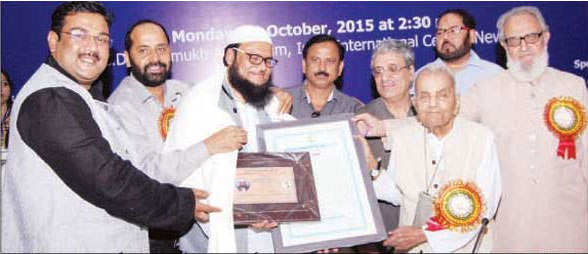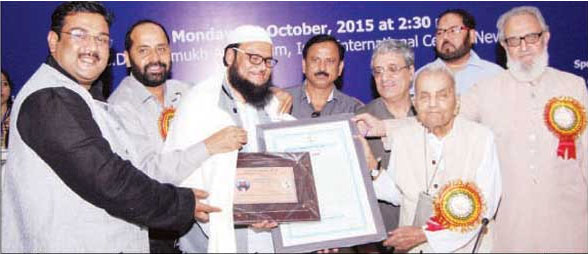 Aligarh Movement Award – 2015 ' has been conferred to Mr. Mahbubul Hoque, Hon'ble Chancellor of the University of Science & Technology Meghalaya and Chairman, ERDF , on 19th Oct,2015 in a glittering function at India International Centre, New Delhi. The award was handed over to Mr Hoque by Justice Rajinder Sachar, former Chief Justice of the Delhi High Court and Architect of Sachar Committee in presence of Hon'ble Vice Chancellor, IGNOU, New Delhi, Justice MSA Siddiqui and Dr Jasim Mohammed, Editor of the Aligarh Movement Magazine including a galaxy of educationists and social reformists of repute. It may be mentioned that the award instituted by 'The Aligarh Movement' a National Bilingual Monthly Magazine which was decided by a Jury constituted under Chief Adviser of the Aligarh Movement Magazine and noted film director Shri Mahesh Bhatt.
Mr Mahbubul Hoque, an alumnus of AMU who did not only get his MCA degree from the University but also carry the real mission of Sir Syed Ahmad Khan, the great son of India and he decided to propagate this mission of education and humanitarian culture . Inspired by the life of Sir Syed Ahmad Khan Mr. Hoque started to follow his footsteps and thus from a very humble beginning he started his educational movement in the north eastern part of the country and in a short period of time he became the founder Chancellor of the University of Science & Technology, the first technical university of NE India and Chairman of a number of top grade educational institutions across the region including an AICTE approved Engineering College in the state of Meghalaya. Because of his pioneering activities for minorities and underprivileged section of the society, Govt. of India nominated him as a Member of National Committee for Minorities Education (NMCME) and Honorary Coordinator of NCMEI. Mr Hoque has successfully launched and replicated Aligarh Movement in the distant place of Assam and especially of Meghalaya where he has set up his major educational institutions in a campus called Technocity. To remember and relive the remarkable contribution of Sir Syed Ahmed Khan in this remote part of the country, Mr Houqe has dedicated two major hostel buildings in his technocity campus as Sir Syed North and Sir Syed South whereas the central library in the campus is named as Moulana Azad Central Library after the remembrance of Moulana Abul Kalam Azad in line with that of AMU. The academic buildings, internal connectivity roads and other structures in the campus are also named after the great personalities of India such as Dr. APJ Abdul Kalam, Mahatma Gandhi, Dr. S. D. Phukan, Bir Tirot Singh Hostel, Mother Teresa, C.V. Rahman, Dr. Bhupen Hazarika in recognition of their contribution for the cause of the nation.
It may be recalled that Mr Hoque has received several other awards and honours both in India and abroad which includes "Educlusion Award" at Singapore, Edupreneur Award by Engineering Watch, Maulana Abdul Jalil Choudhury Memorial Award, Minority Educational Leadership Award by MOMEIN, New Delhi,Maeeshat Eduprenuer Award, Mumbai etc.