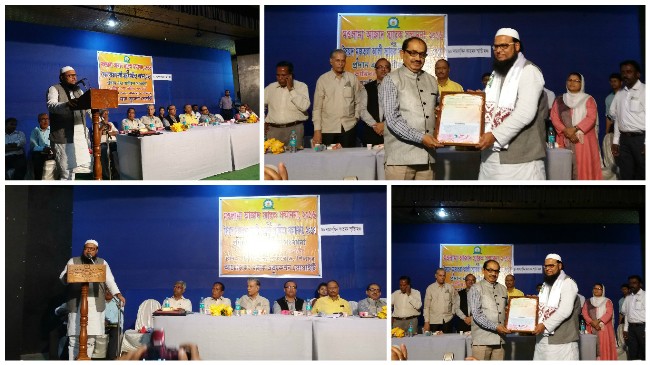 3rd APRIL, 2017, ERDF, Guwahati : Conceptualized and executed by Barak Education Society Sichar, the organizing committee of the society confers "Maulana Abul Kalam Azad Memorial Award" to the eminent personalities who have made mark in the field of education. And it has been carried out since 2014, every two year this honor is being delivered. The objective is to pay tribute to Maulana Abul Kalam Azad, independent India's first education minister who was as one of the most important national leaders of the time, prominently leading the causes of Hindu-Muslim unity as well as espousing secularism and socialism. In the year 2014, this award was conferred to one of the leading progressive Islamist thinkers of North East, erudite educationist and social worker Maulana Taibur Rahman Barbhuiya. This year the organizing committee has nominated Sh. Mahbubul Hoque for his immense and unstoppable contribution in the entire North East region to bring about a social revolution by educating the poor, the under-privileged backward class people, specifically minority Muslim women so that they can come out of their conventional ghettos and take the centre-stage.
Worthwhile to mention, Mehbubul Hoque, a post-graduate alumni of Aligarh Muslim University in computer science, had started his educational entrepreneurial career with one computer and four students in February 2001. Presently, he is running two CBSE affiliated schools, one engineering college, one law school, one B.Ed college, one women's college, one career guidance centre, one education rehabilitation centre & one University of Science & Technology. The number of students have now notched up to 6500 out of which 20% students hailing from the under privileged backward class at each institution are availing free education. Around a total of 700 teaching fraternity and other human resources are shouldering their responsibility as partner in progress in all the institutions to fulfill the Mission ERDF.
It was an ecstatic moment for all ERDF Family. Shri Mahbubul Hoque, Hon'ble Chancellor USTM and Chairman ERDF, had been bestowed with the Moulana Abul Kalam Azad Memorial Award 2016 by Barak Education Society at Silchar Gandhi Bhawan today. Sh. Hoque in an exclusive press meet, had conveyed his message " I am blessed that I have been chosen for this award. ERD Foundation works for the benefit of mankind and we will keep working towards that end. By 2020, we are planning to come up with a Bengali newspaper and Bengali news channel, solely focused on education, as I have seen there are so many issues regarding education which needs to be stressed on and from the audience perspective, the channel will get wide viewers as education is a thriving sector in North East". Amongst other distinguished guests present on the occasion were Prof. Dilip Chandra Nath the Hon'ble Vice Chancellor of Assam University Silchar and Prof Rajat Gupta the Director of NIT Silchar.