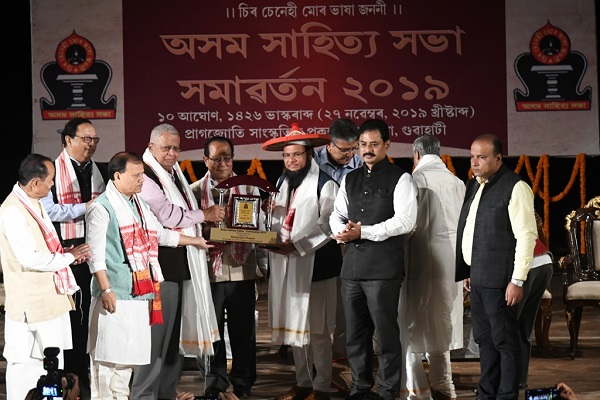 In its bi-annual convention 'Samavartan-2019' the Asam Sahitya Sabha bestowed the prestigious 'Shikshacharya' award to Shri Mahbubul Hoque, renowned edupreneur and Chancellor of the University of Science & Technology Meghalaya for his outstanding contribution in the field of education. The 'Sahityacharya' award of Sabha was also given on the same occasion to educationist Dr Parag Kumar Bhattacharya and stalwart of Mising language and litterateur Shri Nahendra Padun. The awards were handed over by Shri Tathagata Roy, the Governor of Meghalaya at the Convention held at Pragjyoti ITA Centre for Performing Arts Machkhowa here on 27th November 2019 in the presence of Dr Dhrubajyoti Bora, former President of Asam Sahitya Sabha, Dr Paramananda Rajbonshi, President of Asam Sahitya Sabha, apart from many other dignitaries and participants.
Addressing the convention, Meghalaya Governor Tathagata Roy said, "My heart is engulfed with happiness for inviting me for this prestigious literary award function. I am really grateful to Asam Sahitya Sabha for inviting me today." Highly praising the century long work and effort of Sabha for the progress of Assamese language and literature he said that existence of such a legendary organization is significant and wished that there should have been such an organization for Bangla language too.
Speaking on the occasion, Dr Dhrubajyoti Bora said, "Today is a very important day for Asam Sahitya Sabha. I am happy that for the first time we are offering an award to a person who has contributed to the welfare of society and education. Future of a nation is protected by intellectual work of that nation. This recognition is a sign of our intellectual and literary prosperity."
Receiving the Shikshacharya award Mahbubul Hoque expressed his thankfulness to the apex literary body of Assam and said, "This is indeed a great honour for me and the people who are working with me. I am really grateful to Asam Sahitya Sabha for appreciating and recognising our continuous effort to contribute to the educational development of the region as a whole. I also welcome Sabha for its incessant work towards enriching language and literature and extend all kinds of support and expertise from USTM. We will remain partners in all future endeavours under the guidance of Asam Sahitya Sabha." Hoque also said that USTM will promote and support the creation of a Language Museum under the guidance of Sabha.
After receiving the Sahityacharya award, Shri Nahendra Padun thanked Asam Sahitya Sabha andsaid though recognition inspires a writer to go forward, no litterateur works to receive any awards, it is their passion. Dr Parag Kumar Bhattacharya who also received Sahityacharya expressed his thankfulness to Asam Sahitya Sabha and said that this recognition very significant.
Delivering the concluding words of the Samavartan-2019, Dr Paramananda Rajbonshi said that Chancellor Hoque has been honoured with the 'Sikshacharya' award by Sabha for his untiring initiative to help economically poor students belonging to constitutionally backward areas of the region by providing free education and for offering a considerable number of scholarships and PhD Fellowships in the memory of several literary stalwarts of Assam. "We also appreciate his efforts and initiatives in education and spread of Assamese and other ethnic languages.